2019/02
Hamar Trio Yesterday is Here (cd Clean Feed Records)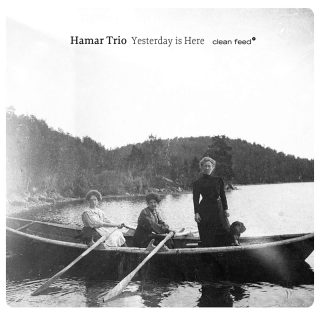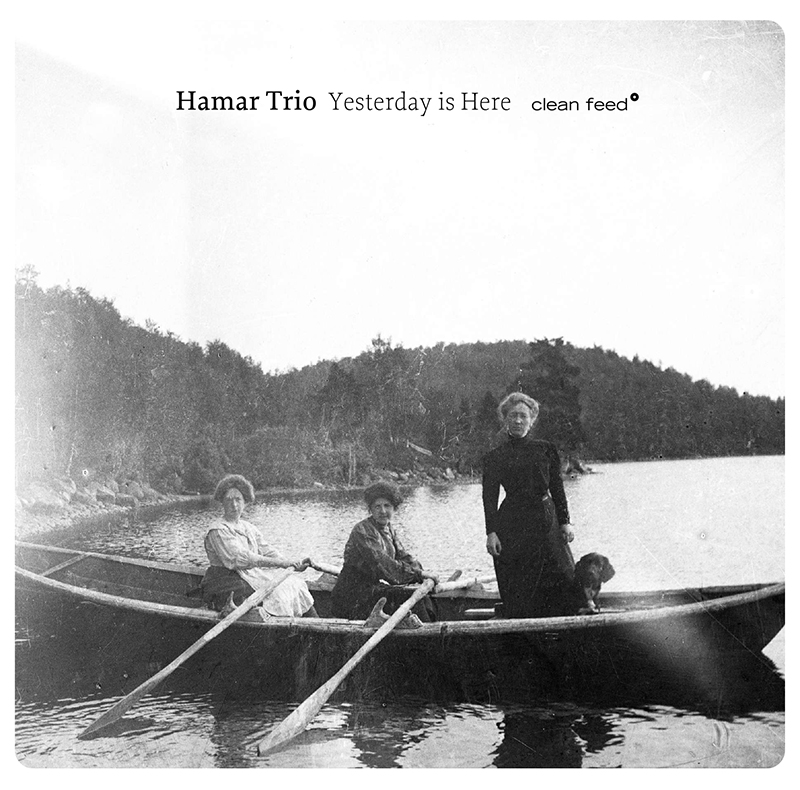 Klaus Ellerhusen Holm clarinete and alto saxophone
Hernâni Faustino double bass
Nuno Morão drums and percussion
Here is an example of a specially well succeeded co-operation between a notorious representative of the Norwegian scene (Klaus Ellerhusen Holm) and two of the Portuguese one (Hernâni Faustino and Nuno Morão), combining the recordings of live presentations in a couple of spaces dedicated to creative music in Portugal, Salão Brazil (Coimbra) and SMUP (Parede). If you're a Clean Feed fan you already listened other titles documented in both venues, by the likes of Steve Lehman, Ken Vandermark's and Adam Lane's Four Corners, Fredrik Nordstrom Quintet, Daniel Levin Quartet, Zanussi 5, Angles, Harris Heisenstadt's Canada Day and others. "Yesterday is Here" has the same relevance, and it equals what you know of Holm from the bands Honest John, Ballrogg and Abaft the Beam, of Faustino from RED trio and of Morão from The Selva: music committed to «celebrate the moment», to paraphrase Derek Bailey, only answering to the appeal of spontaneity and intuition, in a very natural and even organic way. The framing is in jazz and experimentation, meaning that everything else that may happen disregard labels and any sort of categorization. A party for your ears, in short.
_______________________________
José Lencastre Nau Quartet Eudaimonia  (cd FMR Records)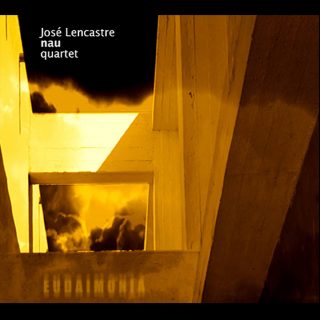 José Lencastre alto saxofone
Rodrigo Pinheiro piano
Hernâni Faustino double bass
João Lencastre drums
______________________________
Lisbon Freedom Unit Praise of our Folly (cd Clean Feed Records)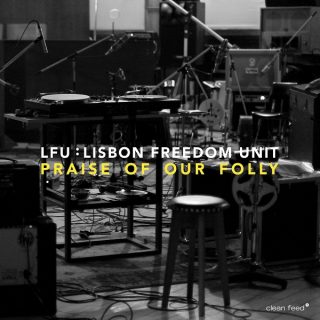 Luís Lopes electric guitar
Rodrigo Amado tenor saxophone
Bruno Parrinha soprano saxophone, clarinet
Pedro Sousa tenor saxophone
Rodrigo Pinheiro piano, rhodes
Ricardo Jacinto cello
Hernâni Faustino double bass
Pedro Lopes turntables, electronics
Gabriel Ferrandini drums, percussion
The first avant-gardes of the 20th century began a special interiorization of aspects coming from the creativity of children, of the then-called "savages" and of the demented, and that interest explains much of the Western artistic evolution until today. The improvising co-operative Lisbon Freedom Unit assume that legacy in its musical practice and in the title of this record, refering it to the classic "In Praise of Folly", written by the Renascentist scholar Desiderius Erasmus. Without a leader, this ensemble of nine reunites some of the most distinguished musicians of the Lisbon free jazz and free music circles. Mixed here are the members of RED trio (Rodrigo Pinheiro, Hernâni Faustino and Gabriel Ferrandini), of Garden (José Bruno Parrinha, Ricardo Jacinto, Luís Lopes) and of the duo Eitr (Pedro Sousa and Pedro Lopes), and also 2/3 of the Rodrigo Amado Motion Trio (Amado, Ferrandini) and 2/4 of the Luís Lopes Humanization 4tet (Lopes and Amado). Having all of them in the same band it seems is in itself crazy, but the only chaos you'll hear is totally organized: if nobody follows a sacrament it's because only folly can bring us close to God, as Erasmus used to say.
________________________________
Uivo Zebra (cd Bocian Records)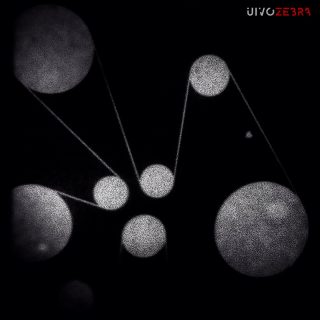 Jorge Nuno electric guitar
Hernâni Faustino electric bass
João Sousa drums
While discussing an album by legendary drummer Jack DeJohnette, jazz critic Gary Giddins once aptly stated: "Jazz is at bottom a conflict between the will to freedom and the desire for discipline." He was of course referring to the common situation (in jazz, at least) where musicians work with composed material and stretch it, provide their personal slant with the element of improvisation. But you could argue that even in surroundings where the composed element is discarded, the tension remains. Even improvisation is built on a conflict between what's possible and what makes sense.
And that not only involves taking risks, but also discipline. The self-described Portuguese 'power trio' of Jorge Nuno, Hernâni Faustino and João Sousa actively seeks out this field of friction. It's what they've all been doing for a while. Sousa's involvement in the collective/label A Besta (and maybe also his love of surreal poetry), Nuno's membership of psych/improve heavyweights Signs Of The Silhouette and other collaborations, and Faustino's omnipresence in the improvised/experimental music scene bring some key ingredients to the table, but the way they use these elements is still something else.
It's a refreshing and – quite often – utterly ravaging tightrope act between being rooted and jumping from a cliff. Headfirst. It's to be found in the way they create shapes out of sound. The way the album sets off, it also could have ended up in a free-form exploration with a vague psychedelic twist that goes to nowhere in particular. The artistry of excellent musicians that are also perceptive listeners, is also to be found in the way they create form or cohesion without reverting to clichés you can see coming from a mile away.
The remainder of the record only serves to enhance the breadth of their creative radius: the compact "Cãibra-Tumulto" is an aural hand-grenade, filled with frenzied, disjointed guitar howls, with Sousa never settling for one approach and Faustino attacking those strings with a crackling aggression. The remaining longer pieces verge from ghostly interaction and exploratory shadings to showers of screaming feedback, detours through areas of stomping, ritualistic trance-rock and expressionist action that's sometimes reminiscent of Marc Ribot's short-lived trio with Trevor Dunn and Calvin Weston. The sound is as overwhelming as it is free. Not only electric, but also electrifying.
When improvisers turn to electricity and imposing volume levels, the results are sometimes as intense as they are tedious, because they forget that it can quickly become a stodgy, lumbering mess that bleeds out way too soon. Not so here, as the musicians of Uivo Zebra have the experience, but also (and more importantly) the awareness that the most enduring results are found when guts, self-knowledge, shared vision and discipline are kept in rigorous balance. Which needn't imply it becomes safe or toothless. Make no mistake: this record still hits you like a nasty headbutt. 
Guy Peters