RED trio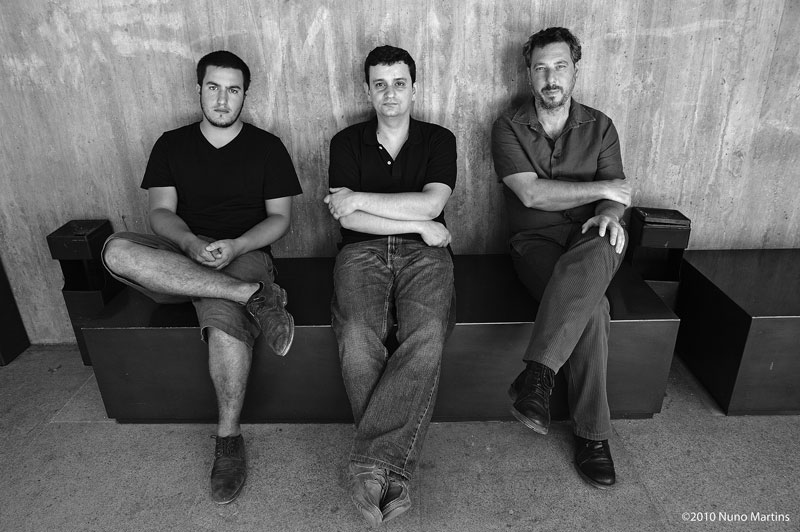 Rodrigo Pinheiro piano
Hernani Faustino double bass
Gabriel Ferrandini drums
RED trio is a group that presents a multiplicity of approaches to music playing and composition in real time by improvisation.
Formed by three musicians from the new improvised music Lisbon scene from an idea by Hernani Faustino, RED trio features Rodrigo Pinheiro at the piano, Hernani Faustino at the doublebass and Gabriel Ferrandini at the drums. RED trio explores one of the most prolific jazz formations: piano/doublebass/drums. The trio's music is characterized for being fast, energic, highly focused, dynamic and sometimes nervous and violent. Most of RED trio influences are based on jazz and especially on improvised music. A three part counterpoint oscillating between the most subtle sound to a sonic burst full of violence and intensity.
More info: http://www.redtrio.info
_______________________________________________
Hamar Trio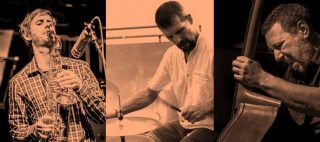 Klaus Ellerhusen Holm  saxophone, clarinet
Hernani Faustino double bass
Nuno Morão  drums
Previously unimaginable, but now quite normal, Hamar Trio is yet another in the recent spate of groups combining Portuguese and foreign musicians (Norwegian Klaus Ellerhusen Holm with the Portuguese Hernâni Faustino and Nuno Morão). Playing together for the first time, they share the same view of improvisation, akin to Derek Bailey's description of it as the "celebration of the moment" – creativity guided only by intuition and spontaneity. Their music is jazz, of course, but it also includes erudite music and the experimentation taking place on the fringes of popular music.
______________________________________________
CHAIN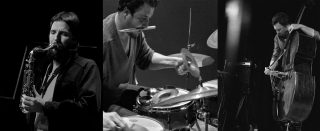 Yedo Gibson saxophones
Hernani Faustino double bass
Vasco Trilla drums
A chain may consist of two or more links, it can be used for lifiting, pulling, securing or transferring power. Those qualities were very clear since the moment the trio played their first notes. The links got attached to their ears since the first moment, the music of Gibson-Trilla duo got lifted up with the presence of Faustino, the music got locked straight away as the musical engine started to exchange this powerful energy of sounds and structures.
_____________________________________________
Volúpias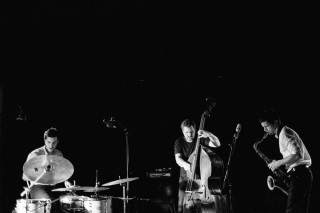 Gabriel Ferrandini  drums and percussion
Pedro Sousa  tenor saxophone
Hernani Faustino  double bass
Volúpia das Cinzas is a jazz combo lead by drummer and virtuoso Gabriel Ferrandini, who is known to be a key-motor for Lisbon's free jazz scene. Having played with RED trio, Rodrigo Amado, Alex Zhang Hungtai, Nate Wooley, Johan Berthling and so many more, the still young drummer is already the most safe bet for Portuguese future in music. In Volúpia das Cinzas, he joins forces with upright bassist Hernâni Faustino and saxophonist Pedro Sousa to outdo himself and he's boundaries with new ventures coming from the ashes of what he has previously deconstructed.
____________________________________________
Staub Quartet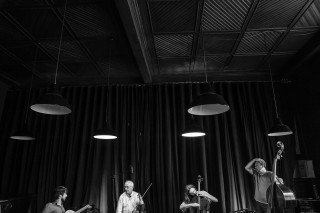 Carlos Zíngaro violin
Marcelo dos Reis acustic guitar
Miguel Mira cello
Hernani Faustino double bass
"…At the time, the brilliant Kandinsky – influenced by Goethe and Delacroix – showed that sound and color had powerful effects on the human condition as both can become "means to exert a direct influence on the soul."Based on similar principles, STAUB QUARTET, through House Full of Color, has produced a work capable of illuminating the soul of everyone who is willing to "let in the light" to their inner world." Sergio Piccirilli
______________________________________________
Uivo Zebra 
Power trio of psychedelic, noise and free improvisation with guitar player Jorge Nuno and drummer João Sousa.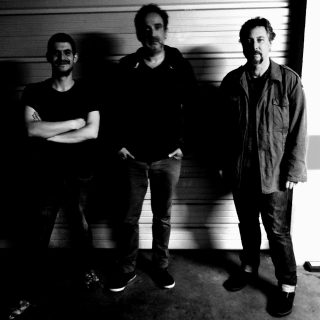 _________________________________
José Lencastre Nau Quartet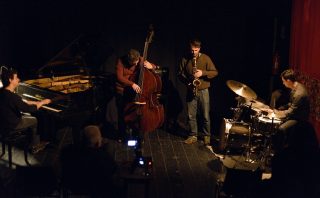 José Lencastre alto saxophone
Rodrigo Pinheiro piano
Hernâni Faustino double bass
João Lencastre drums
___________________________________
 Lotte Anker / Rodrigo Pinheiro / Hernani Faustino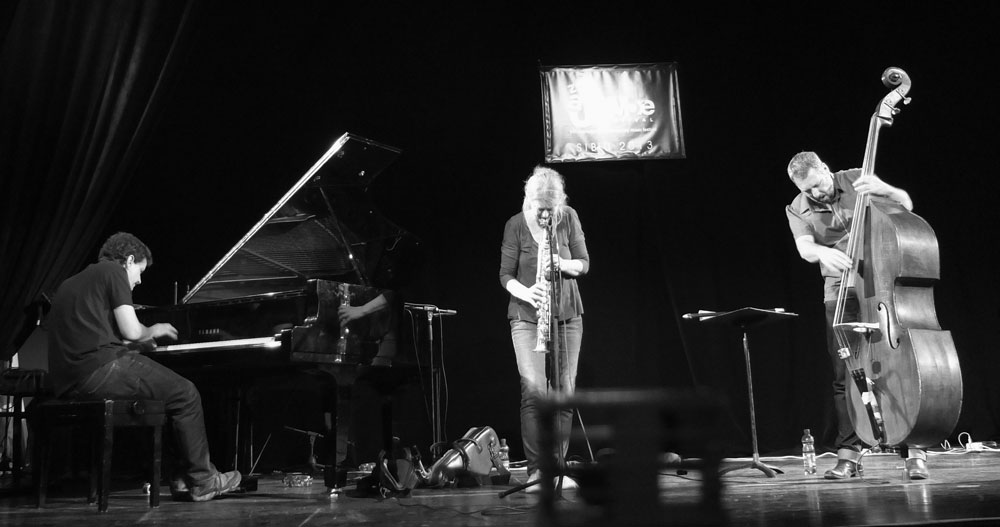 Lotte Anker tenor, alto and soprano saxophone
Rodrigo Pinheiro piano
Hernani Faustino double bass
Improvised music is one of the few fields where something like this can happen: having a new band with people we never imagined together, and better still considering that the attempted combination results in something as astonishing as this studio recording. While listening to "Birthmark", the first, immediate, impression we have is that the association of Lotte Anker with pianist Rodrigo Pinheiro and double bassist Hernâni Faustino makes all the sense. More: that it was written in the sky. If there was a common characteristic inviting to turn a reality this reunion of the Danish superb saxophonist with the two Portuguese members of the much acclaimed RED trio, it gets brilliantly evident in the music played here. Let's call it "intensity".
All the three of them are intense musicians. And take notice: intensity, here, doesn't mean they function as an elephant in a porcelain store. Sometimes it seems so, indeed, but there's also intensity when they restrain themselves, choosing to be subtle and meticulous in their static and very spatial group improvisations. There's intensity even when Anker, Pinheiro and Faustino lower the amount of notes produced and are more concerned with the maintenance of fluid atmospheres. Only density gives nuance to the shared power of the trio, going from the most transparent textures to the opaque mixing of several layers of sound, with all the dynamics in between.
_______________________________________________
 Clocks and Clouds
Luís Vicente trumpet
Rodrigo Pinheiro piano
Hernani Faustino double bass
Marco Franco drums
The quartet Clocks and Clouds is composed by trumpeter Luis Vicente, pianist Rodrigo Pinheiro, bassist Hernani Faustino and drummer Marco Franco.
With its own language and a peculiar approach to free improvisation and jazz, the music of the quartet explores sound masses, angular phrasing and contrasting, where sonic textures and diffuse gradually associate with harmony and rhythmic forms. Music changing, malleable and evolving.
_______________________________________________
Nuno Torres/Hernani Faustino/Nuno Morão  

Nuno Torres alto saxophone
Hernani Faustino double bass
Nuno Morão drums
Trio of idiosyncratic features, spreads their language through sound alone, or in confrontation with the "image" common conventional melody, questioning the silence and space. The result is, and will always unrepeatable. Nuno Torres crosses your path as a musician and experimental search of sonic material, using as a central instrument the alto saxophone, through the most diverse artistic disciplines, has collaborated with important national and international artists.
Hernani Faustino has become an unavoidable figure when it comes to national improvisation, either through the acclaimed RED trio, or through its recent forays record labels next to John Butcher, Lotte Anker and many others. Nuno Morão has developed much of its work in the area of improvised music with the PARQUE (Ricardo Jacinto), Pinkdraft and IKB Ernesto Rodrigues, meticulously and creatively.
https://soundcloud.com/torres-faustino-morao/
_____________________________________________
Rodrigo Amado Wire Quartet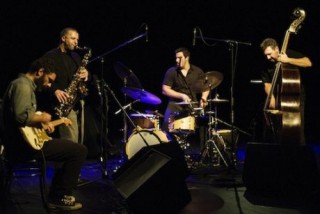 Rodrigo Amado tenor saxophone
Manuel Mota electric guitar
Hernani Faustino double bass
Gabriel Ferrandini drums
"….It's a most surprising record, this. Its antecedents – its genre, almost – seem familiar to the point of predictability, and yet nothing about it conforms easily to what we know and expect about such groups. The guitar and bass playing are revelatory. Mota plays in a no-style that seems to bundle up Derek Bailey, Sonny Sharrock and Arto Lindsay in a single phrase. Faustino should be renamed "the Lisbon earthquake," if he isn't already, and Ferrandini is one of the most musical drummers I've heard in years. Amado himself is a proven quantity, an artist of real and still growing stature. He's been away on his own European Echoes imprint for a while. This feels like a kind of homecoming." Brian Morton
______________________________