2023/01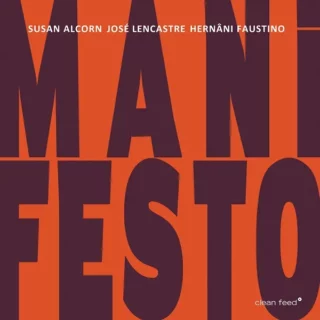 Susan Alcorn/José Lencastre/Hernâni Faustino Manifesto (Clean Feed Records)
Susan Alcorn pedal steel guitar, lap steel guitar 
José Lencastre tenor and alto saxophone 
Hernâni Faustino double bass, electric bass 
Two Portuguese musicians team up with an instrumentalist with a rare path, who continues to expand in her expression that instrument so particular that is the pedal steel guitar.
Saxophonist José Lencastre and bassist Hernâni Faustino often share the stage and studios with various groups. They soon discovered that they had in common, in addition to their taste for jazz and improvised music, a great admiration for the work of Susan Alcorn. In August 2022, Susan Alcorn played in Lisbon, and José Lencastre invited her to record in a trio with saxophone and double bass. The session took place at the Namouche studios in Lisbon, and the album, "Manifesto" brings music of generous interaction, where melodies intersect with angular and abstract forms, bringing a solid narrative that unites improvisations of the trio.
Hernâni Faustino, a self-taught musician, was part of several rock bands in the 1980s; in the 90's, he started to play the double bass and dedicated himself only to improvised music. He was one of the founders, in November 2007, of the RED trio, with pianist Rodrigo Pinheiro and drummer Gabriel Ferrandini. He is currently a member of the Nau Quartet, a formation led by saxophonist José Lencastre, the Refraction Quartet by Rodrigo Amado and the trio Volúpias by Gabriel Ferrandini. In concert, he has played alongside musicians such as Mats Gustafsson, Nate Wooley, Alexander von Schlippenbach, Carlos Zíngaro, Susana Santos Silva, Rob Mazurek, Taylor Ho Bynum, among many others.
José Lencastre is a saxophonist, improviser and composer from Lisbon. Renowned as a versatile musician, he has practiced various musical genres over the years. He has collaborations on stage or recording with musicians such as Sei Miguel, Gonçalo Almeida, Albert Cirera, Rodrigo Amado, Peter Evans, Ziv Taubenfeld, Vasco Trilla and many others. During the period he lived in Brazil, between 2012 and 2016, he had the opportunity to develop his interest in the vast and rich rhythmic, melodic and harmonic culture of different traditions, such as Choro, Frevo, Ciranda, etc. He formed the Nau Quartet, a group with four albums released to date, all well received by critics, both nationally and internationally. He has had the opportunity to perform live in several countries such as France, Germany, England, Slovenia, Serbia, Russia, Poland, Czech Republic, Slovakia, Hungary, Morocco, Italy, Belgium and Spain. In 2022, his quintet Common Ground debuted on record, with the participation of Carlos Zingaro, Clara Lai, Gonçalo Almeida and João Sousa.
"Susan Alcorn is one of the greatest exponents of her instrument in the world, taking the pedal steel guitar to worlds that are light years away from its traditional limited role in country and western (where she's coming from). Starting in Texas, Alcorn expanded the instrument's vocabulary, studying classical music from the 20th century, avant-garde jazz and music from around the world. "I understand the instrument I play not as an object to be dominated, but as a partner with whom I share with the listener a meaning and, I hope, a deep awareness of each fragile moment we are together. It is this dynamic that I try to be aware of both in my writing and in my performances', explains herself." Antonio Branco, Jazz.pt
_______________________________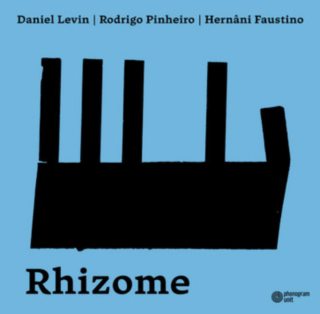 Rhizome (Phonogram Unit)
Daniel Levin cello
Rodrigo Pinheiro piano
Hernâni Faustino double bass
The dictionary tells us that a rhizome is an elongated underground plant stem that produces offshoots and extended roots separate, and not resulting directly, from the characteristics of the actual plant. In the 1980s, French philosophers Gilles Deleuze and Felix Guattari borrowed the word to describe historical and cultural networks of information and communication which may derive from multiple, non-hierarchical sources of influence or attraction with no predetermined organization or unifying coherency. In The Mechanic Unconscious, Guattari explained, "Any point whatsoever on the rhizome will be able to be connected to any other point…will not be formalized on the basis of a logical or mathematical metalanguage…will be able to allow semiotic chains of all kinds to connect [in addition to linguistic]…it will imply the implementation of various collective assemblages of enunciation." Looked at from another perspective, we may recognize this as musical improvisation in its seldom encountered state of ultimate freedom – not a style, but an escape from conventional form and meaning.
Improvisation has come to represent a number of types of spontaneous activity, some based upon a variational approach to given material or structure, a reconsideration of previous modes of expression, or the development of an alternative syntax within a specific musical language – where the "roots" (that is, the decision-making) of the transformational process derive from memory, whether experiential or intellectual. But "It's a poor sort of memory that only works backwards," as the White Queen told Alice in Lewis Carroll's Through the Looking Glass. The ability to project and extend a musical idea into an environment of seemingly unrelated activity requires an awareness of possibility, a logic of continuity as discovery. This is the foundation from which this trio seeks its identity.
Coming from various backgrounds and a remarkably broad range of stylistic experiences, including dozens of recordings with the cutting-edge of musicians in America and Europe, Daniel Levin, Rodrigo Pinheiro, and Hernani Faustino joined together here for the first time as a trio (although the pianist and bassist have a longtime successful musical partnership) to perform as an experiment in synchronicity, without advance preparation or stylistic consensus. Their compatibility is based upon the acceptance of form as an intuitive, immediate shaping of details, where memory becomes individual narrative, each instrument an equal voice, a distinct thread in the ensemble fabric. The adventure confronts them to provide questions rather than answers. "You are lost the instant you know what the result will be," according to cubist painter Juan Gris.
To this end, their music reflects a sensitivity of intent; group textures reveal a fluid, intimate, transparency in counterpoint; tension emerges from attention to the uniqueness of the moment, and is resolved in equally nuanced, unpredictable ways – an impulse of spontaneous contemplation, in all of its oxymoronic complexity. The challenge is to sustain the moment without losing contact with what poet George Oppen called "the lyric valuables" – the urgency of expression. In so doing, though the growth of the music takes place beneath the surface, in the subtle shifts of dynamics, dissonance, and juxtaposition, intensity remains constant.
Another poet, Paul Valery, believed "A bad poem is one that vanishes into meaning." Music, too, may disappear into its own formal necessity. This trio's solution is not an illustration or explanation, but a revelation. Art Lange
________________________________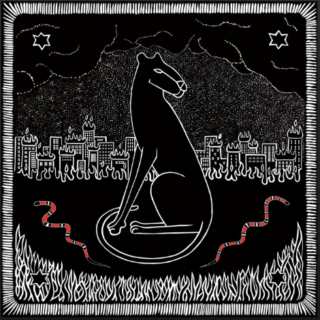 Rodrigo Brandão Outros Estado (Comets coming) 
Rodrigo Brandão voice
Rodrigo Amado sax
Yedo Gibson sax
Thiago França sax
Luís Vicente trumpet
Carla Santana electronics
Guilherme Granado electronics
Braima Galissa kora
Hernâni Faustino double bass
Felipe Zenícola electric bass
Fábio Freire percussion
Pedro Melo Alves drums
João Valinho drums
________________________________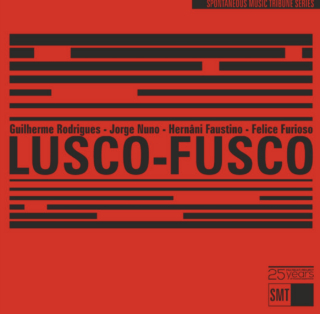 Lusco-Fusco (Spontaneous Music Tribune Series) 
Guilherme Rodrigues alto saxophone
Jorge Nuno electric guitar
Hernâni Faustino double bass
Felice Furioso drums and percussion
Recorded at Namouche Studios, Lisbon, December 16/2022 by Joaquim Monte
Mixed and mastered by Joe Talia in Jan /Feb 2023

Cover design by Witold Oleszak
Inside photos by Nuno Martins
Liner notes by João Morado

Executive production by Tomasz Konwent & Andrzej Nowak.
Whenever in despair, people tend to believe life happens in moments of calm. This misconception stems from the assumption that transition moments, owing to their ephemerality, do not comprehensively represent the human experience. Ironically, it is precisely at these critical moments that life blatantly unfurls its true colours and forms, and reality blossoms unrestrained as a horse on the loose. As the unknown unfolds unbridled, human beings escape this unsettling condition, alienating themselves from what seems like an everlasting experience of uncertainty. To go against the tide, one must be mindful. And that is what this record is all about: embracing change to the fullest.

Lusco-fusco is the dusk and the dawn; the place in between; the grey area; the transient moment; the connecting line; the phase interface. It is not the comfort zone nor the cheerful companion. It is the brutal but honest friend who makes one feel naked and exposed. Its music is a call for change, a manifesto against complacency, a window into the full spectrum of emotions that hover around the unknown. In fact, the whole history of this record is filled with unexpected and difficult moments that contribute to its eerie, fearless, and foggy atmosphere. Lusco-fusco was recorded at the Namouche studio, in Lisbon, just two days after the studio had been hit by a flood. The quartet, forcefully restricted to a corner of the recording room, experimented with an unusual acoustics setting that lent to the recording an angular, hazy, and oozy character, likely unprecedented at the emblematic studio of the Portuguese capital.

But neither the recording conditions nor the personal problems some of the musicians were going through prevented an inspired freely improvised session from happening. The quartet, which had only played together a couple of times before (including a live gig at Cossoul), faced the unforeseen situation with open arms, embedding mutability in the spirit of their music. The young talent Guilherme Rodrigues acted as a creative, disruptive force, always eager to burst into spirals of free-form speech; Jorge Nuno sprinkled the sound with electric wizardry, shaping novel textures, wavy geometries, and psychedelic quasi-melodies; Hernâni Faustino was a keystone, seamlessly untangling all twists and turns, either with pulsating steadiness or free-flowing grooviness; and Felice Furioso never stopped seeking for new and daring ways to play his small but highly dynamic drum kit. To top it all off, it was all wrapped in the magic of Joe Talia's sound modelling, and this physical edition comes with inspiring photography by Nuno Martins. Expect a raw and profound journey into the abyss of what it is to be human. There is no life in stillness. There is no growth without suffering. They know it.  João Morado 
________________________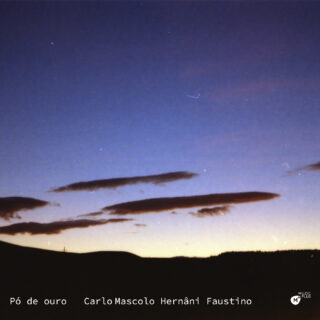 Carlo Mascolo no-input trombone 
Hernâni Faustino double bass 
Pó de ouro
The compositional history of this album draws inspiration from an intentionally random selection of words taken from the book Love Poetry by Nâzım Hikmet, a Turkish poet and writer who defines poetry as "a nucleus of emotion and thought in which it is necessary to succeed in merging all aspects of your life."

The title Golden Powder evokes the imaginary patina that often appears at dusk, an inflection point between day and night, a simultaneously unique and special passage.

The composed music is wholly conceived and performed in real time by the two musicians who, in addition to the skilful conducting of the improvisation, always manage to weave a common, honest, intriguing and unpredictable conversation, which never becomes a subordinate dialogue.

The two musicians had never played together before this concert.
Complicity and intuition, necessary ingredients for the success of each composition in real time, have covered the music featured in this album with fluidity and lightness.

All compositions by Carlo Mascolo, Hernâni Faustino
Recorded by Rui Galveias 28th june 2023 at Bota (Base Organizada da Toca das Artes) Largo Santa Bárbara, 3D, Lisbon, Portugal
Mixed and Mastered by Mimmo Galizia at Waveahead Studio – Monopoli
Cover photo by Felice Furioso
Executive Production: Muzic Plus
_______________________________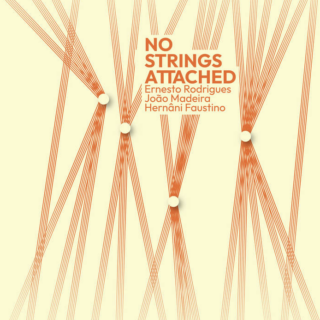 No Strings Attached (Creative Sources Recordings)
Ernesto Rodrigues violin, viola 
João Madeira double bass
Hernâni Faustino double bass
Tracks 1-8 recorded on February 5th 2023 in Lisbon.
Track 9 recorded live on February 2nd 2023 at Cossoul, Lisbon, during the Creative Sources Cycle.
Recording, mix and master by João Madeira.
Graphic design by Carlos Santos.
Photography by Nuno Martins.
Production by Ernesto Rodrigues.