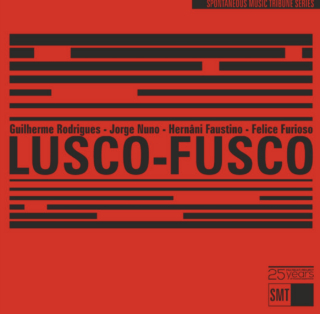 Guilherme Rodrigues alto saxophone
Jorge Nuno electric guitar
Hernâni Faustino  double bass
Felice Furioso drums and percussion
All music by Guilherme Rodrigues, Jorge Nuno, Hernâni Faustino & Felice Furioso
Recorded at Namouche Studios, Lisbon, December 16/2022 by Joaquim Monte
Mixed and mastered by Joe Talia in Jan /Feb 2023
Cover design by Witold Oleszak
Inside photos by Nuno Martins
Liner notes by João Morado
Executive production by Tomasz Konwent & Andrzej Nowak.
Whenever in despair, people tend to believe life happens in moments of calm. This misconception stems from the assumption that transition moments, owing to their ephemerality, do not comprehensively represent the human experience. Ironically, it is precisely at these critical moments that life blatantly unfurls its true colours and forms, and reality blossoms unrestrained as a horse on the loose. As the unknown unfolds unbridled, human beings escape this unsettling condition, alienating themselves from what seems like an everlasting experience of uncertainty. To go against the tide, one must be mindful. And that is what this record is all about: embracing change to the fullest.
Lusco-fusco is the dusk and the dawn; the place in between; the grey area; the transient moment; the connecting line; the phase interface. It is not the comfort zone nor the cheerful companion. It is the brutal but honest friend who makes one feel naked and exposed. Its music is a call for change, a manifesto against complacency, a window into the full spectrum of emotions that hover around the unknown. In fact, the whole history of this record is filled with unexpected and difficult moments that contribute to its eerie, fearless, and foggy atmosphere. Lusco-fusco was recorded at the Namouche studio, in Lisbon, just two days after the studio had been hit by a flood. The quartet, forcefully restricted to a corner of the recording room, experimented with an unusual acoustics setting that lent to the recording an angular, hazy, and oozy character, likely unprecedented at the emblematic studio of the Portuguese capital.
But neither the recording conditions nor the personal problems some of the musicians were going through prevented an inspired freely improvised session from happening. The quartet, which had only played together a couple of times before (including a live gig at Cossoul), faced the unforeseen situation with open arms, embedding mutability in the spirit of their music. The young talent Guilherme Rodrigues acted as a creative, disruptive force, always eager to burst into spirals of free-form speech; Jorge Nuno sprinkled the sound with electric wizardry, shaping novel textures, wavy geometries, and psychedelic quasi-melodies; Hernâni Faustino was a keystone, seamlessly untangling all twists and turns, either with pulsating steadiness or free-flowing grooviness; and Felice Furioso never stopped seeking for new and daring ways to play his small but highly dynamic drum kit. To top it all off, it was all wrapped in the magic of Joe Talia's sound modelling, and this physical edition comes with inspiring photography by Nuno Martins. Expect a raw and profound journey into the abyss of what it is to be human. There is no life in stillness. There is no growth without suffering. They know it.  João Morado