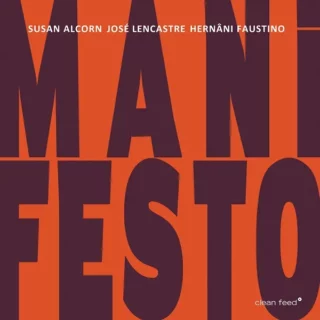 Susan Alcorn/José Lencastre/Hernâni Faustino Manifesto (Clean Feed Records)
Susan Alcorn pedal steel guitar, lap steel guitar
José Lencastre tenor and alto saxophone
Hernâni Faustino double bass, electric bass
Two Portuguese musicians team up with an instrumentalist with a rare path, who continues to expand in her expression that instrument so particular that is the pedal steel guitar.
Saxophonist José Lencastre and bassist Hernâni Faustino often share the stage and studios with various groups. They soon discovered that they had in common, in addition to their taste for jazz and improvised music, a great admiration for the work of Susan Alcorn. In August 2022, Susan Alcorn played in Lisbon, and José Lencastre invited her to record in a trio with saxophone and double bass. The session took place at the Namouche studios in Lisbon, and the album, "Manifesto" brings music of generous interaction, where melodies intersect with angular and abstract forms, bringing a solid narrative that unites improvisations of the trio.
Hernâni Faustino, a self-taught musician, was part of several rock bands in the 1980s; in the 90's, he started to play the double bass and dedicated himself only to improvised music. He was one of the founders, in November 2007, of the RED trio, with pianist Rodrigo Pinheiro and drummer Gabriel Ferrandini. He is currently a member of the Nau Quartet, a formation led by saxophonist José Lencastre, the Refraction Quartet by Rodrigo Amado and the trio Volúpias by Gabriel Ferrandini. In concert, he has played alongside musicians such as Mats Gustafsson, Nate Wooley, Alexander von Schlippenbach, Carlos Zíngaro, Susana Santos Silva, Rob Mazurek, Taylor Ho Bynum, among many others.
José Lencastre is a saxophonist, improviser and composer from Lisbon. Renowned as a versatile musician, he has practiced various musical genres over the years. He has collaborations on stage or recording with musicians such as Sei Miguel, Gonçalo Almeida, Albert Cirera, Rodrigo Amado, Peter Evans, Ziv Taubenfeld, Vasco Trilla and many others. During the period he lived in Brazil, between 2012 and 2016, he had the opportunity to develop his interest in the vast and rich rhythmic, melodic and harmonic culture of different traditions, such as Choro, Frevo, Ciranda, etc. He formed the Nau Quartet, a group with four albums released to date, all well received by critics, both nationally and internationally. He has had the opportunity to perform live in several countries such as France, Germany, England, Slovenia, Serbia, Russia, Poland, Czech Republic, Slovakia, Hungary, Morocco, Italy, Belgium and Spain. In 2022, his quintet Common Ground debuted on record, with the participation of Carlos Zingaro, Clara Lai, Gonçalo Almeida and João Sousa.
"Susan Alcorn is one of the greatest exponents of her instrument in the world, taking the pedal steel guitar to worlds that are light years away from its traditional limited role in country and western (where she's coming from). Starting in Texas, Alcorn expanded the instrument's vocabulary, studying classical music from the 20th century, avant-garde jazz and music from around the world. "I understand the instrument I play not as an object to be dominated, but as a partner with whom I share with the listener a meaning and, I hope, a deep awareness of each fragile moment we are together. It is this dynamic that I try to be aware of both in my writing and in my performances', explains herself." Antonio Branco, Jazz.pt