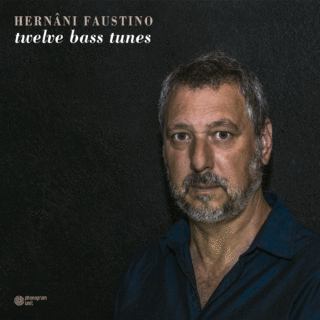 Twelve Bass Tunes 
Hernâni Faustino double bass
Recorded (16.01.20) and mixed at Namouche Studios, Lisbon, by Joaquim Monte
Mastered by Simon Wadsworth
All music by Hernâni Faustino
Produced by Sei Miguel
Executive production by Phonogram Unit
Photography : Nuno Martins
Design : Sofia Faustino
Special thanks to my Family and Fala Mariam
After taking up the double bass, Hernâni Faustino played and collaborated in a variety of contexts, such as rhythm sections or chamber music. He formed the RED trio and played all over Portugal, Europe and the USA.  He won awards for the best debut records on All About Jazz, with the Nobuyasu Furuya Trio "Bendowa" and RED trio debut cd. All About Jazz also put RED trio + Nate Wooley concert in New York on the list of "best of the year".
His collaboration with other musicians such as Rodrigo Amado, Sei Miguel, Ernesto Rodrigues and others made him a regular on the Lisbon improvised scene. He also started playing some solo concerts, music for theater and founded the cooperative label Phonogram Unit with other musicians from Lisbon.
Autodidactic, Faustino introspectively and expressionistically encompasses a non-specific global sensibility.
It's surprising that the Portuguese bassist didn't record a solo until now! "Twelve Bass Tunes" provides a direct window into his world. For those interested, but unfamiliar with more outside music, there's plenty of structure to hang on there. An open mind and an appreciation for the instrument are all that's needed.